What are the best Montreal food experiences?
Answers from Our Experts (2)
As a city that was built on its heavy French influences, it's only natural that Montreal has fabulous cuisine. Here's our list of the best Montreal food experiences:

1. Toqué! From its exclamation mark to its tastefully offbeat décor, Toqué! injects a sense of French-Canadian joie de vivre to haute cuisine. The brainchild of owners Christine Lamarche and Normand Reprise, Toqué! (pronounced "Toe-kay") represents the pair's quirky genius. Main courses are French-inspired and carnivore-inclined, from suckling pig cooked sous vide to duck magret, farm-raised veal in a bordelaise sauce and cavetelli with foie gras (of course) and white truffle oil. A seven-course tasting menu is available for $92 per person.

2. Montreal-style bagel. With a hefty Jewish community, Montreal offers bagels similar to good old New York bagels, but with a few twists. Always baked in a wood-fired oven, the Montreal bagel is smaller, sweeter, denser and has a larger hole than the New Yorker. Before being popped in that wood-fired oven, the bagels are boiled in water sweetened with honey to give them that slightly sweet flair. Some of the more traditional spots continue to make the bagels right in front of your eyes. Though there are other flavors, the two main varieties are black-seed (poppy seed) and white-seed (sesame seed). We suggest heading to St. Viateur Bagel Shop in Le Plateau Mont-Royal, the city's Historic Jewish Quarter.

3. Poutine. Even though the city of Montreal hasn't permitted street food carts since 1947, the provincial cuisine is based largely around those comfort foods. Poutine, which has gained popularity all over Canada, is just that: a comfort food. French fries and cheese curds are smothered with gravy, creating a dish that's the epitome of the cuisine served at greasy spoon-type diners. Head to La Banquise for a delicious Quebecois treat. You'll find an entire poutine menu from which to choose.

4. Montreal smoked meat. With much less sugar than New York pastrami, Montreal-style smoked meat — which has been a favorite since the 19th century — is another iconic dish when it comes to provincial cuisine. Sure, you can get a sandwich anywhere; but for the best Montreal smoked meat sandwich, which is always sliced by hand to keep its form, head to Schwartz's (also in the Historic Jewish Quarter along Saint-Laurent Boulevard).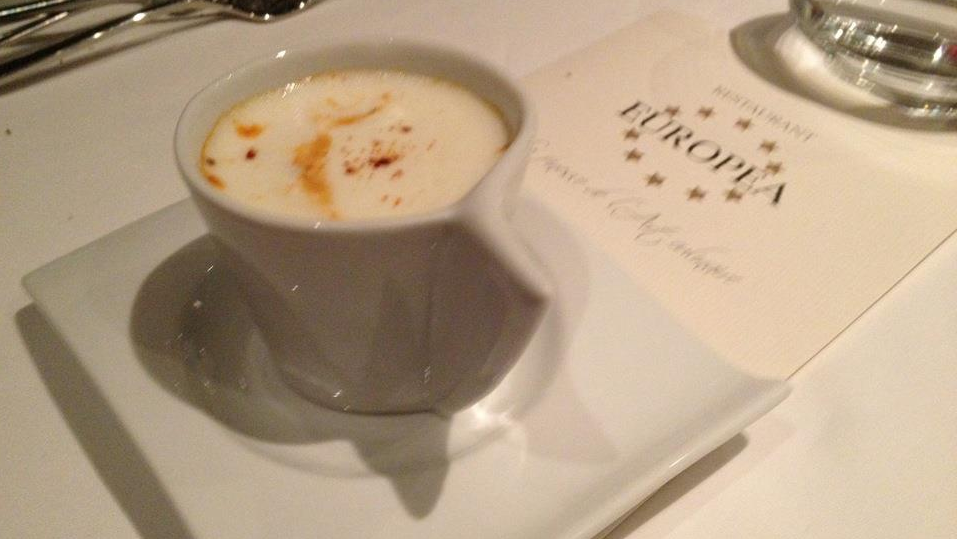 Lobster capuccino at Europea!
Montreal is on most foodies' list of cities to visit because of its French heritage of great food. Here are five must-do experiences if food is the purpose of your trip to Montreal:

1- The tasting menu at Restaurant Europea: A feast for all your senses as you are guided through this 10-course dinner which usually ends up being a 12 or 14 courses experience, depending on the inspiration du moment of their two celebrated chefs, Jérôme Ferrer and Patrice De Felice!

Amazing delicacies are brought before you, each one in a different manner and with great creativity, by the professional and highly skilled staff. You will never see the same plate twice, as your food will be displayed, once on a plate, a slate, a cone, under a glass bell, on a river rock, in a treasure chest, on a mini-clothesline along with mini-clothespins, in a crockpot on a bed of hay , on a stick, in a shell of clay that you will break with the provided hammer, even inside a book!

2- Poutine: The now worldwide known dish was invented here, in the province of Quebec, and has recently evolved into a gourmet dish. First, there are the basic three ingredients: Fries, brown gravy and squeeky cheese curds. Then you have the modern gourmet versions that may include, pulled pork (My favorite!), foie gras, lobster, bacon, steak, General Tao chicken, chorizo, merguez and, of course, smoked meat! Coming up soon is Poutine Week in Montreal, from February 1st to 7th.

For the classic, no-nonsense type, you may go to La Banquise, Patati-Patata, Lafleur, Paulo et Suzanne, Poutineville, La Cabane, Montreal Pool Room or any place known for great fries. For the gourmet or high-class poutine, you should try Au Pied de Cochon, Garde-Manger, Mechant Boeuf, Brouhaha or Frites Alors.

3- Smoked Meat: Montreal style smoked meat is cured in seasoning with cracked peppercorns and aromatic spices and much less sugar than the New York style Pastrami and it is made with brisket. The best delis pride themselves in serving traditional smoked meat, cured, smoked and sliced by hand. The smoked meat sandwich is served on rye bread with yellow mustard. The best and most authentic experience is found at Schwartz Deli, where there is a waiting line all day long and you are seated next to strangers, at long tables of 6 or 8 people. The classic order there is a smoked meat sandwich (Medium is strongly suggested but I prefer Lean), French fries, a dill pickle and a Black Cherry Coke! Some people will tell you that the best smoked meat is found at Main Deli, Reubens, Dunns or Briskets... and they may be right!

4- Bagels: Again, there is a debate between Montrealers and Newyorkers about who has the best bagels. I'll let you be the judge of that but the city is known for great tasting fresh bagels. Another age-old debate is about the best place to buy bagels: Fairmount or Saint-Viateur. Both of them are pick-up and go places where the hot bagels go directly from the huge open-fire wood-oven to your bag. Both are open 24 hours a day and have been there for ever! Saint-Viateur recently opened a café on Mont-Royal Avenue, where you can actually sit down and eat your bagels with a nice coffee.

5- Jean-Talon and Atwater Farmer's Markets: Open all year-round, 7 days a week, you will find amazingly fresh products from the Province of Quebec, brought to you directly from the farmers and producers themselves. Quebec maple syrup, ice ciders, Quebec cheeses, arrtisan sausages, fruits, vegetables, herbs and spices. Small shops cook traditional Quebec recipes with local products. It's a great place for foodies to spend an afternoon of discoveries.