What are the best hotels in Old Montreal?
Answers from Our Experts (2)
Photo by Patricia Gajo
When someone asks me to recommend my favourite hotel in Old Montreal, my reflex answer is almost always Hotel Place d'Armes. (Hotel St-James is a close second and of course another stellar option, but for different reasons to be discussed another day.)

The impressive corner property attracts a handsome corporate clientele, as well as romantic couples and bands of girl-getaway besties or male-bonding best mates. Kitty-corner to its namesake square, this awarding-winning jewel is also a neighbour to the famous Notre-Dame Basilica where, FYI, Montreal's most famous songstress Céline Dion married her manager René Angélil in the most lavish fairy tale wedding the city has ever seen.

Divided into two parts, the first part of the hotel offers chic yuppies an adult hangout in the Suite 701 resto/lounge/bar; in season, the party continues on the rooftop terrasse (read: terrace) – the raspberry mojitos are a must. I've also just received news that the hotel's fine-dining restaurant Aix will reopen as a "Japanese tavern" this June, 2013.

The second newer part of the hotel spills over into the adjacent two buildings making a grand total of 132 tastefully attended rooms. I recently stayed in suite 3306 that had the grandest white ceramic tub and chicest raindrop shower. If you're in need of some pampering, the hotels' in-house Rainspa features an urban chic co-ed hammam, Dermalogica facials and a fresh new nail salon.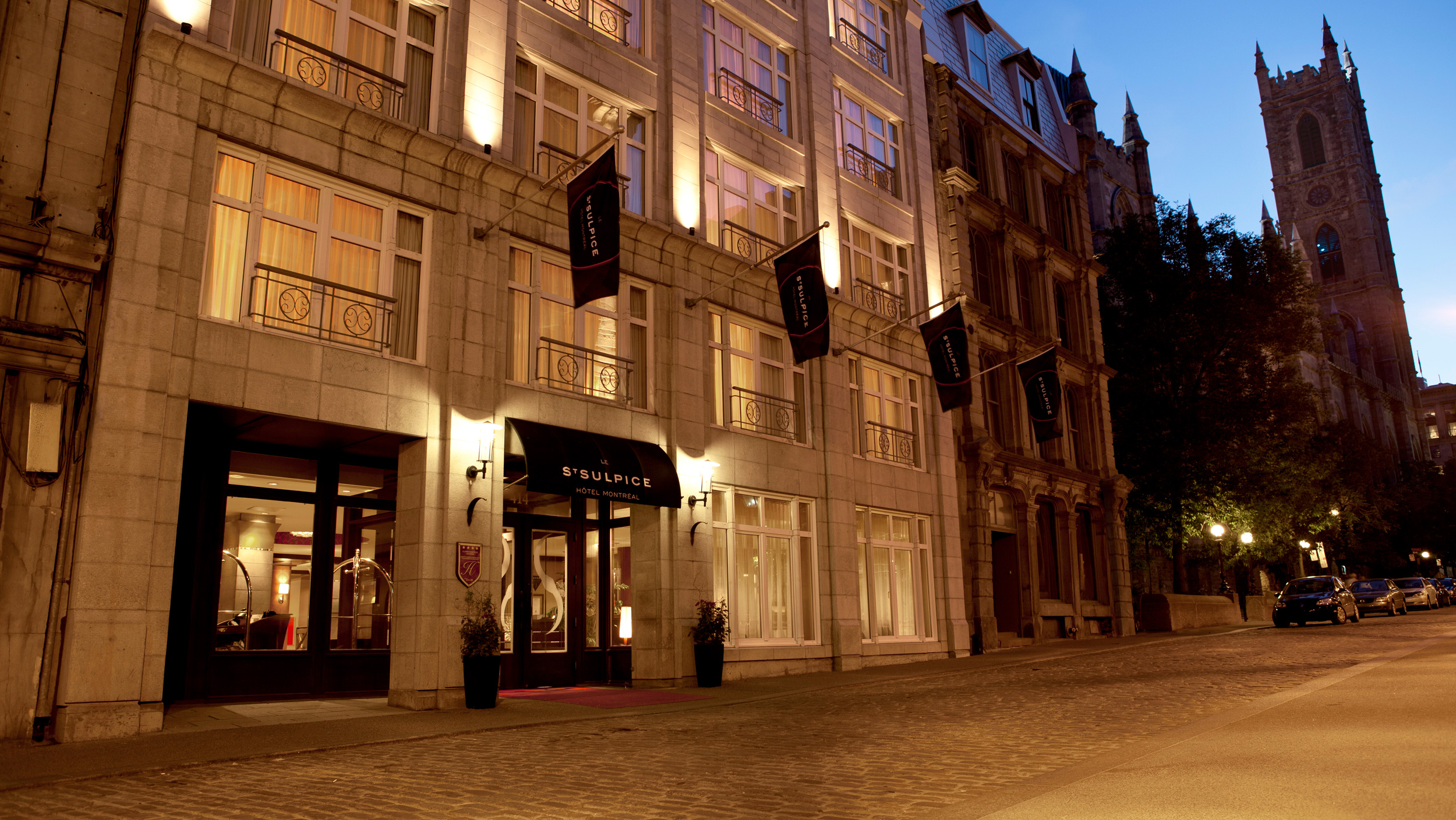 I've had the chance to work for two of the best hotels in Old Montreal, so it will be a pleasure for me to describe them to you!

Hotel Le St-James is a Four-Star rated hotel by Forbes Travel Guide and one of the most luxurious boutique hotels in Montreal. Located in an 1870 building that was once the Merchant's Bank, it is full of history, antiques and rare pieces of art. The place was built to impress and to display the bank's wealth and it still does that today as a hotel. It caters to the wealthiest and most famous people on the planet who like to live in a British castle-like environment and decor.

Le St-Sulpice Hotel Montreal is where I can welcome you now. It is the only boutique hotel in Montreal with two Clefs d'Or Concierges to take care of your every needs and make sure you get the best possible experience of Old Montreal. The 108 suites hotel is ideally located just behind the Notre-Dame Basilica and at the corner of historic St-Paul Street. The comfort of the large suites, the warmth and coziness of the decor and the friendly and attentive service of the employees are equal to none to make you feel like you're at home. In the summer, the backyard terrace becomes the coolest dining room in Old Montreal and an oasis of peace for an extra-long lunch. Actor James Woods, during his Montreal movie shoot last summer, loved the hotel so much that he publicly wrote about it on internet while he was still staying there, to the detriment of his own privacy.

Hotel Gault is an elegant boutique hotel nestled in a beautiful historic building erected in 1871, with a strong focus on interior design and aesthetic elegance. The 30 luxurious rooms are frequently fully booked by their regular guests, who are very loyal to their hidden gem in the Old City. The staff is young, professional and cool, pretty much to the image of the guests staying there.

Hotel Nelligan is a great place for the guests looking for a little more excitement. It is located in the busy part of St-Paul Street and offers 105 luxurious rooms and suites, many with brick or stone walls, a bustling lobby bar, a modern resto-bar with an in-house DJ, a great French restaurant and a very popular and busy rooftop terrace. The whole building transcends that energy and it is carried on by the very helpful and eager to please employees.

Old Montreal has been booming with many of the best new restaurants, boutique hotels, trendy bars and eclectic shops in the last couple years. Combine that with the adjacent Old Port with its promenade, waterfront activities, numerous summer and winter festivals and many outdoor performances and it's no wonder it has become one of the most sought neighborhoods of Montreal for the tourists, as well as the locals.