What are the most unusual dining experiences in Las Vegas?
Answers from Our Experts (1)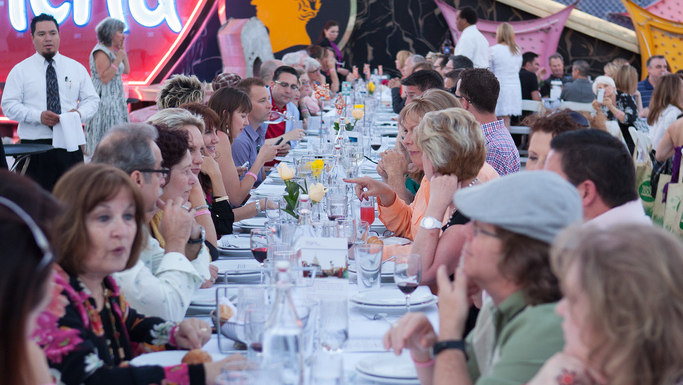 If two's company, and three's a crowd, what's dinner for nearly 200? In Las Vegas, it's called Project Dinner Table, and even at $190 per person, it's one of the hottest tickets in town. This communal dinner party takes place six nights each year at unique open-air locales, such as Gilcrease Orchard, the Neon Boneyard and the streets of Town Square and Downtown. Chefs from all over Las Vegas clamor to be a part of this memorable, charitable affair.

Dinner usually begins with a social hour, with cocktails and wine while the finishing touches are put on the table. It's the most cordial of free-for-all scrambles to claim seats at the long table, all white table-clothed and decked with flowers. Vegetarians get a little marker to let servers know they love their veggies as the six or more courses arrive family style, paired with beer and wine. Live music rings out in these somewhat unorthodox dinner settings, along with laughter, conversation and "cultural moment," that can range from poems to short book readings. Last summer, I recited a humorous beat poem accompanied by the bongo drums! Anything goes, as long as it helps bring hundreds of new and old friends together under the stars.

Before dessert, after-dinner cocktails and coffee from Boulder City, Nevada's own Colorado River Coffee Roasters, Project Dinner Table founder Gina Gavan presents the participating charity with a check and brings the chefs out for a bow and a round of applause that brings the orchard down.

Dinner 20 – Apr 20, 2013, 5:30 p.m. at the Neon Museum, featuring chefs of the MGM Grand.

Dinner 21 – May 18, 2013, 6:00 p.m. at Tivoli Village, featuring chefs Bradley Ogden, Sam Marvin and Angelo Sosa's Poppy Den.

Dinner 22 – June 8, 2013, 6:30 p.m. at TPC Golf Course, featuring chefs from Tao Group and TPC.

Dinner 23 – Sept 21, 2013, 6 p.m. at Dream Racing, featuring chefs from Bellagio.

Dinner 24 – Oct 19, 2013, 5:30 p.m. location TBD, featuring chefs from the Venetian and the Palazzo.

Dinner 25 – Nov 10, 2013, 3 p.m. location TBD, featuring chefs from Red Rock Resort and Green Valley Ranch.

For tickets, updates and more information, visit ProjectDinnerTable.com.