What are the best steakhouses in Las Vegas?
Answers from Our Experts (5)
My favorite steakhouses in Las Vegas are Prime Steakhouse, STRIPSTEAK a Michael Mina Restaurant and Tom Colicchio's Craftsteak.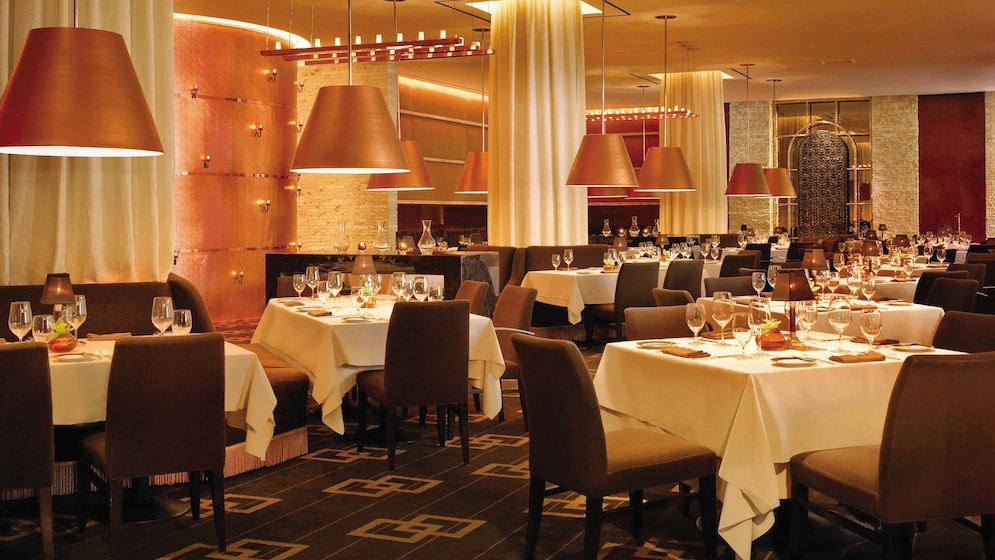 SW Steakhouse. Photo: Wynn Las Vegas
Every chef in Vegas would open a steakhouse if he had his choice. The Vegas staple draw in the customers with memorable meals to satisfy your taste buds.

Perhaps one of the highest grossing steakhouses in town sits at Wynn Las Vegas. The SW in SW Steakhouse stands for Steve Wynn. Here find chef David Walzog's take on steak replete with sides such as creamed spinach and truffled cream corn.

Emeril Lagasse's Delmonico Steakhouse at the Venetian serves up a New Orleans' twist on the classic. Lagasse named the restaurant after the legendary, century-old institution, Delmonico Restaurant in New Orleans that Lagasse reopened in 1997. Expect Creole influences in all the food here.

Wolfgang Puck's Cut at the Palazzo lets you check out your steak before it hits the grill. Chef Matthew Hurley uses USDA Prime Nebraska corn-fed, 35-day dry-aged steaks and Japanese 100 percent Wagyu beef.
You can hardly walk around Vegas without tripping over a high-end steakhouse and there are many excellent choices. For a modernized take on the classic experience with a wide choice of aged meats and beef from different countries and breeds, it's hard to beat Wolfgang Puck's CUT in Palazzo, which just does everything right, from wine list to sides to apps. So does Tom Colicchio's CraftSteak (MGM Grand). The best sides are at Michael Mina's StripSteak in Mandalay Bay, also one of the very few whose "wagyu" beef actually comes from Japan. Easily the hardest steakhouse reservation in town is the relatively new Gordon Ramsay Steak in Paris. For the classic old school New York steakhouse experience, two Big Apple transplants, Smith & Wollensky and the Palm, while ubiquitous, are ultra-reliable. For a dose of Rat Pack Vegas AND a great steak, try the iconic Golden Steer.

Stop two locals on the Strip—just kidding, we don't walk on the Strip if we can help it. But if you do find yourself in the presence of two locals or, better yet, two "born-and-raiseds," get yourself a fresh cocktail, ask them "Golden Steer or Circus Circus?" and then watch the fight ensue. I'm a conscientious objector in this war; I love both of these famous, old-school steakhouses! And I've enjoyed many fine evenings at each. But when pressed, I ask people what sort of an experience they're looking for, as that's the big differentiating factor.

The oldest steakhouse in Las Vegas (since 1958), the Golden Steer is located near the former Sahara, and just off the Strip. Every cabbie knows it. The strip-mall entrance gives way to the foyer, bar and lounge area. Beyond, the large, bright dining room hosts large groups at long tables, while the smaller, dimmer rooms are where couples canoodle in massive leather booths named for the stars of stage and screen who are said to have spend time here in their day. A la carte is the way here—although the chateaubriand for two comes with vegetables. I love the throwback appetizers (clams casino, oysters Rockefeller), tableside Caesar salad and varying accompaniments, the tuxedoed wait staff and even the crotchety bartender. For about $10 corkage per bottle, I can bring in my own wine treasures to enjoy with Golden Steer's Prime aged steaks, always cooked the way I order.

On the other hand, The Steak House is inside Circus Circus, so one must cross the casino to find it deep within. The bar and dining room is very dark, at most dimly lit. The bartender is equally crotchety—just more local charm! Servers are a little more casually dressed, but no less adept, folks who have made their careers in the steak-and-wine trade. The book-lined dining room is filled with large round tables of polo-shirted conventioneers still wearing their nametags, and with the ubiquitous canoodling couples. (I've personally canoodled at both places and still call it a tie.) Dinner here is more of a combo affair—entrees come with starters and sides. Steaks are 21-day-aged and cooked over an open-hearth mesquite charcoal broiler—I love the flavor! I've never brought a bottle of my own here as the wine list has so many items prices well below what's found elsewhere on the Strip.

In all, I call it a toss up. Both are busy, with Circus Circus usually filling up first. So start there, and if you can't get a reservation, give Golden Steer a try.
The steak dinner is a quintessential dining experience in Las Vegas. Every casino hotel has one, and their offerings range from the $8.99 steak dinner to market price cuts of dry-aged Wagyu.

The point of the steak house, however, shouldn't be purely about the steak. After all, if they can't properly cook a simple steak they shouldn't be a steak house. Rather, steak houses have become about everything but the steak. Side dishes are where steak houses shine, such as SW Steakhouse at Wynn Las Vegas with accoutrements of black truffle creamed corn or Brussels sprouts, carrots and pancetta.

If you want to focus on just the meat, there are spots for you to do that too. Brand at Monte Carlo has a fantastic open dining room that looks out onto the casino floor, and a 120-ounce steak if you and six friends are feeling peckish. Jean Georges Steakhouse at Aria Resort & Casino features an outstanding beef program focusing on humanely and sustainably raised beef from the U.S., Australia and Japan.